What Is Wood Railing?
Wood is the most common and traditional material to use when designing indoor or outdoor railings. Wood can be easily stained, sanded, and painted. In addition to the natural beauty of wood, it also offers plenty of other advantages that other materials cannot offer such as durability and a very low cost per square foot.
A wooden railing system can be made with all wood, or you may wish to combine materials such as glass, iron rods or cable on top of that.
Wood railing is one of the cheapest materials around and it can be very durable when properly treated. It can also be used to create a rustic or country look for your home.
Benefits of a wood railing system:
Wood is an ideal material for railing designs because it can be stained or painted without adding cost. It can be used for a rustic look, or carved for a traditional appearance. If you would prefer a modern look you can sand and finish it. Wood handrails have a lot more benefits:
Wood materials are the cheapest option.
Wooden railing is durable when treated correctly.
It can create a rustic or country look for your home. Wood railings are a beautiful interior option.
You can paint or stain wood to any color to match the interior design of your home. This makes it a cheap and versatile option to achieve specific design goals.
Interior wood railings are easy to clean and maintain.
Downsides of a wood railing system:
As with anything, wood railings also has pros and cons. Fortunately for Saint George residents, most of the downsides of wood railing are irrelevant.
Interior wood railings are now often considered dated instead of traditional. However, they weren't always seen this way and were standard builder-grade material for a long time. This shifted to other materials as contractors started using aluminum, iron or steel.
The downside to wood is that it doesn't last as long as other options in harsh conditions. For instance, without regular maintenance like cleaning, staining and checking for rot, wood may dry out.
Wood railing also doesn't do super well in humid environments. Rot will take over quickly. We recommend a metal based railing system for households in humid environments.
Outdoor railing may shrink, split, or warp depending on weather conditions and climate.
Exterior wood railings need regular maintenance.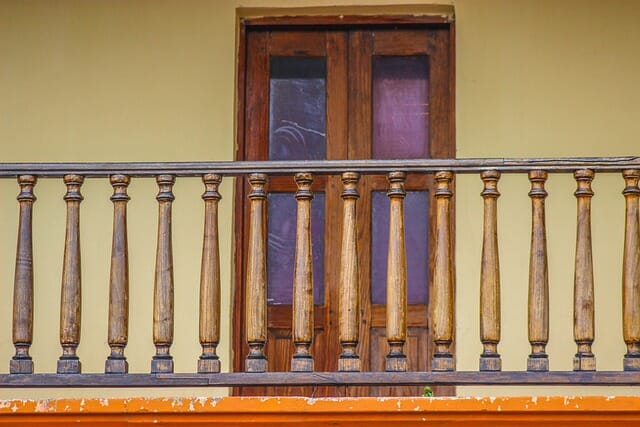 Wood Railing Use Cases
Inside Your Home
Wood railings are an excellent choice for inside your home. They're durable and also aesthetically pleasing. They can be more affordable than other materials such as stainless steel. Wood railing works well with most interior design elements.
Interior Stair Railing
Wood is a popular material for stair railing because it is strong, durable, and beautiful. It can be stained or left to its natural state. Stair railing can also be sealed to protect against wear & tear.
The Purpose Of A Railing System
Handrails are often seen in public spaces such as schools, hospitals, and airports. But the actual reason we install handrails in our homes is primarily for safety. Frail or elderly people can use a handrail to keep their balance when walking up stairs or sitting down. It can also be used to help pull oneself up from a chair or to help rise from the toilet.
It's important to remember that a railing system primary function is safety. Wood railings can be used for aesthetic and visual appeal. They can also positively affect how people experience the place and increase the value of your home.
What You Need To Know Before Get An Installation
Your Location's Weather & Humidity
Where you live, and the humidity you experience has an effect on the design and materials that you can use for your railing project. This includes the type of sealant or protectant you use on the wood.
Is the climate humid or dry?
St. George is very, very dry. So residents of southern Utah won't have to deal with annoyances caused by humid climates. When its humid, and you install a wood railing system outdoors, you need to apply corrosion resistant.
Is your railing going to be near water?
If the railing is installed near a lake, you'll need corrosion-resistant material.
Is the railing in a windy area?
If you live in a windy area like Hurricane, Utah then there are some special considerations. Wind can be exceptionally strong and damage a wooden balcony railing or other railing systems. Structural integrity is very important in these areas.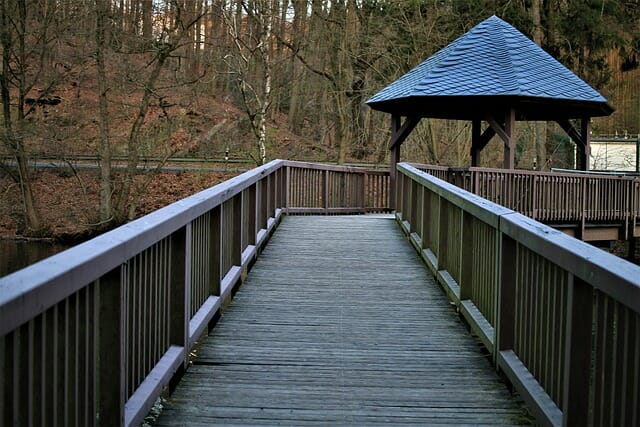 Types of Wood to Consider in Your Wood Railing System
Yellow Pine Railing
Pine is very dense wood. It also has a lot of subspecies that make it useful in many different applications. Its very durable and grows in various types of climates. It is popular especially for furniture, construction projects, and building homes.
Specifically yellow pine can withstand harsh climates and extreme temperatures. Its very useful for railing because it resists rot, and its density makes it strong. Pine can be molded to look attractive, and is an affordable option for both indoor and outdoor railing systems.
White Oak Railing
White oak has a beautiful, light color that makes it very popular in today's modern designs. Like pine, oak is also very resistant to rotting. White oak has fantastic workability and can easily be designed to desired shape using woodworking tools. White oak is a little bit more expensive than pine, primarily due to its beautiful coloring.
Walnut Railing
Walnut wood has a beautiful dark color that gets darker as it ages. It's not great outdoors due to it being very susceptible to weather. It works great indoors because its resistant to wear and decay. Its also tough while not being very heavy. Walnut can be expensive, primarily once again for its incredible color.
Maple Railing
Maple is extremely susceptible to weather, so we don't normally recommend outdoor use. This is because it has a tendency to crack if exposed to a lot of humidity or extreme changes in temperature. Its light color makes it look incredible in modern designs. Maple, like most wood railing needs to be treated. It's usually handles polish, varnish, and stain well. Maple is easy to maintain but scratches easily.
Choosing Your Type Of Wood
When deciding on which type of wood you'd like to go with. Always take price, color, and humidity into account. As those are the 3 most important factors. St. George residents wont have to worry about humidity as much, making wood handrails an excellent choice.
Wood Handrails
Things to consider when choosing a wood handrail
Cheap Materials
Watch out for cheap materials. Some woods may be very soft and get dents quickly. This leads to a beat up and scratched handrail in your home. Soft woods require more maintenance over time.
Warping
Wood is greatly affected by the amount of moisture near it. It can suck up moisture, and shrink when it looses it. Dry air, especially in St. George can cause them to shrink and warp overtime. If your handrail gets warped, give us a call. Unfortunately you'll probably need to replace it.
Moisture makes it so that most wood handrails generally cannot be used outside, but some pressure-treated wood is suitable as railing for decks.
Good Wood Is Expensive
Maple and Oak tend to be a more reliable option, but they cost more than soft woods. Fortunately you do get a nice color to go along with the aesthetic of your house. Cheaper would can be a good option if you use it in the right element. Give us a call today to talk about your railing needs.
Wood Railing Systems Increase the Value of your home
You are always looking for ways to increase the value of your home, and there are many ways to do that. Increasing the curb appeal of your home is one of the best investments you can make. Installing a new wood railing system will transform the look and feel of your house. A beautiful railing system will do more for your home than you realize. Depending on your design aesthetics, you can really transform, or open up a space with good railing system. Let us know the aesthetic you'd like your home to feel like and we can recommend some great options that will be sure to make your home look and feel fantastic!
Wood Railing Installation Near Me
If you live in St. George or the surrounding area, you are in luck! St. George decks and railing has you covered. We specialize in wood railing systems, including handrails and can install a beautiful railing system in your home or yard.
If you have considered installing a railing system yourself, you're probably aware of the incredible hassle it can be if you make any mistakes. We recommend hiring a pro to do so, even if you don't select us. We want you to get the most out your railing project. Have questions? Give us a call, or submit the form for a free instant quote today!