Cable Railing Contractors In Saint George
What is a Cable Railing?
Cable Railing is a railing system that uses cables as infill. Infill is the part of cable railing that fills in-between posts. This can be horizontal or vertical depending on your needs.
Horizontal Cable Infill
Horizontal cable railing systems attach their infill to posts. This creates beautiful lines that optimize visibility.
Vertical Cable Infill
Vertical cable systems have become quite common in St. George Utah. Their design creates a distinctive look leading to becoming more popular in 2021. Vertical Infill attaches to the two parallel horizontal handrails held up by posts. In some cases vertical cable railing can cost a bit more than horizontal infill.
Cable Railing Installation St. George
St. George growth has exploded in recent years. Resulting in a growing need for cable railing systems. It's important to choose a handrail installer that knows what they are doing, provided excellent service, and gives you an affordable estimate. St. George railing is that company. We serve the St. George area and are thankful for the opportunity to live it this beautiful part of the world.
Cable railing has become very popular in St. George. As new modern house styles are built in the red rock, cable railing provided versatility and visibility which is very important to St. George residents.
HOW MUCH DOES CABLE RAILING COST?
Cable Railing System Cost
​ "How much do cable railings cost?" is a common question we get. Unfortunately its not as simple as giving a linear cost per foot as there are many factors. But to get an idea of material costs only, we will try to give an average estimate of what your cable railing might cost.
Cable Railing systems vary in cost depending on your installer, cost of materials selected, and the square footage of your railing or handrailing system.
The following factors are important when pricing your cable handrailing system:
Size and shape of your railing system
The chosen material for your handrail
The chosen material for your posts
The style or design choices you make for the posts
The height of the railing install
The diameter of the cable you choose
How many cables you decide to go with
There are many different choices for each of these categories. For example, choosing wood over metal posts may decrease your overall cost.
As a complete ballpark. An entire cable railing system could cost $75 – $220 per linear foot. And that's just for materials.
Wood Railing Cost
Cable railing be installed using metal or wood posts. Using Wood for your posts will be a little cheaper than say aluminum or stainless steel. Consider the design you would like and take material cost into account.
Aluminum Railing Posts
Installing aluminum for your cable railing could cost around $110-150 per linear foot, which is cheaper than stainless steel posts. Aluminum comes with extra strength and security for your railing system. Aluminum is a fantastic middle ground for outdoors and has become the go to for the best railing system in St. George. Aluminum can also be used both in and outdoors making it incredibly versatile. We highly recommend Aluminum handrails for your metal railing or cable railing install.
Stainless Steel Cable Railing Posts
Stainless Steel Cable Railing is the most expensive of your cable railing options. It has incredible strength and durability. It will cost $140-220 per linear foot, depending on the grade of your chosen stainless steel. Stainless steel is a stellar option for outdoor/exterior railing installs that are not close to water.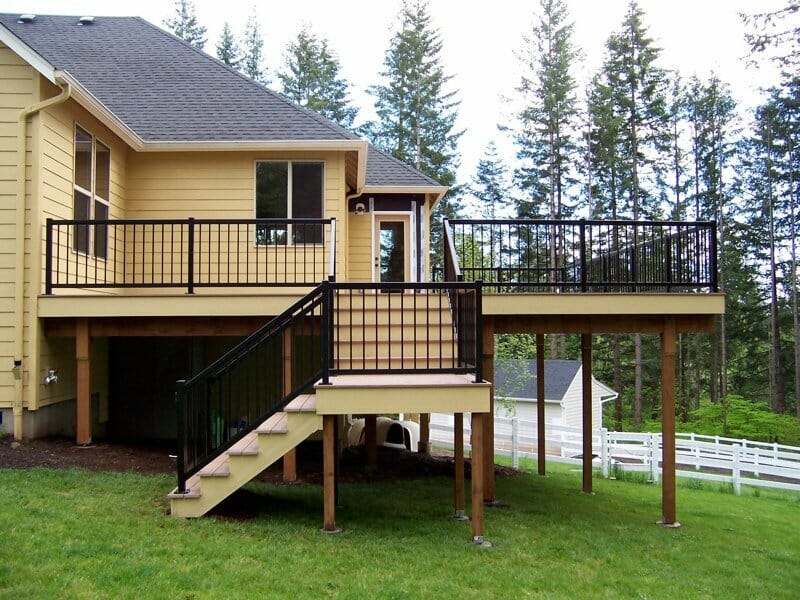 CABLE RAILING INSTALLATION
Commercial Cable Railing
Commercial cable railing projects usually answer to strict code. This is where you'll want to have an installer such as St. George Railing to come out and install commercial railing project. Industrial railing is super important and a necessary way to provide safety and durability to your building.
We have completed many commercial railing projects and work with both small and large companies. Whatever your handrailing project needs, we've got you covered!
Stair Railing
Cable Stair railing is perfect for both the interior and exterior of your home. Cable railing works well with a lot of difference designs.
Interior cable systems look fantastic and bring a modern feel to your home. They are great for kitchens, abasement or anywhere you have stairs. The visibility with cable railings will work well for your home.
Cable railing is minimalist and jives well with modern design philosophies. You can do complicated things with cable railing particularly with stairs.
Deck Railing
Stainless steel cable deck railing systems are safe and durable. Stainless steel cable for deck railing systems can be made to have corrosion resistance. Stainless steel is a great choice for your deck railing because of visibility, and low maintenance.
Stairs are a large part of deck designs with cable railing systems. Keep cost in mind as stairs can complicate how your cable install will proceed.
Patio Railing
Patio Cable railing is excellent for specific types of patios that over look gardens or other special circumstances. Cable railing always increases the look and feel of your patio.
Balcony Railing
Balconies require railing. Choosing cable handrails is an awesome choice for your balcony as it allows for better visibility, which is important for balconies. Choose a metal railing system for your cable to make sure you've got the best look.
Porch Railing
Cable railing installs are very common on a porch. This can increase the curb appeal of your home and also boost the value of your home. Cable railing is a great way to sell your home faster.
Garden Railing
Cable Railing around gardens look fantastic especially when used with wood posts. Having a garden railing system will keep children and pets out of your garden as well as give it a clean, organized look.
Pool Railing
Its important to have a railing system around a pool to keep children safe. Pool railing systems need to keep children out when adults are not around. Installing a gate that cannot be opened by children is also very important.
Dock Railing
Exterior cable railing as well as glass railing systems look and work excellent on a dock. If you have a commercial project that needs railing near water. Give us a call and we will accommodate your needs.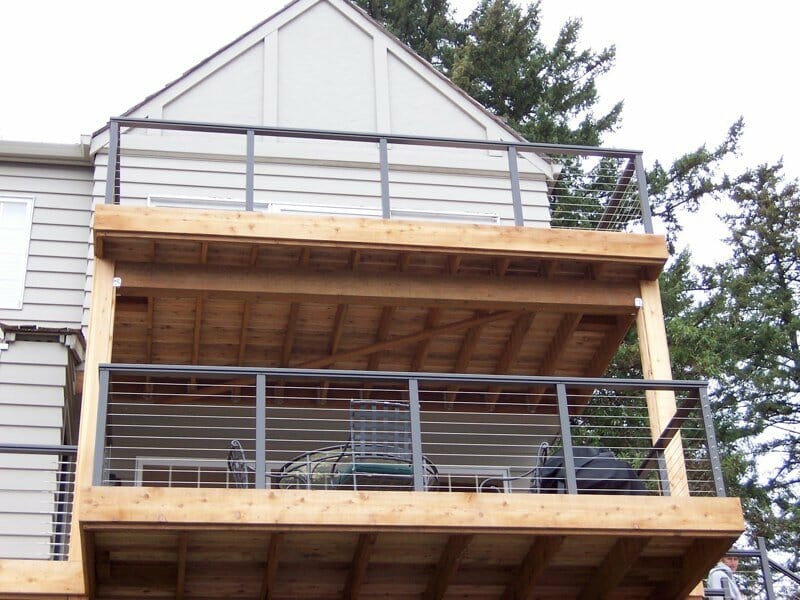 ARE CABLE RAILINGS SAFE FOR KIDS?
Cable railing systems are designed to be durable, and sturdy. Unfortunately horizontal railing systems could also been seen by children as "ladders". This has raised concern with parents around Utah.
The National Association of Home Builders and NOMMA reported on the dangers of horizontal railings. The study revealed that for children 1.5-4 years of age, falls due to horizontal railings accounted for just .032% of injuries. They showed that doors, windows, countertops, and fences accounted for up to 10x more injuries than cable railings.
It really comes down to the fact that children in this age group need supervision no matter what they are doing. A cable railing system should be fine for your homes interior or exterior.
PROS AND CONS OF CABLE RAILING
Pros and Cons
As with any railing installation, there are pros and cons to different types of materials and systems. Cable railing has a lot of pros that make it a popular choice for St. George Utah. As with any choice, there are many factors including the materials used in your cable handrails.
Pros:
It's flexible. This means its easier to install, and can be designed in ways that other railing systems cannot.
When using a metal post, it looks sleek and modern and also have less maintenance than other railing systems.
It's popular for both indoor and outdoor systems, and can use most types of posts like aluminum, steel, composite, and wood.
It provides excellent visibility for your yard or home.
Cons:
It costs a little bit more than traditional handrail installations many due to its modern design, and more expensive materials.
Metal railing systems, including cable railing may need to be cleaned every once in a while to look good.
Horizontal railing could be dangerous for children climbing.
WHAT IS THE BEST CABLE RAILING COMPANY?
A lot of people search "Cable Railing Near Me" to try and find the best contractor in their area. St. George has just a few dedicated railing companies. Unfortunately many people opt to go with a friend, or a neighbor or someone they know that "knows what they are doing" almost always has long term consequences in the form of needed repairs, bad installation, or poor design and material choices.
Its important for you to pick the best railing company in St. George for your railing installation. That company is St. George Railing. No matter your railing, or hand railing needs, we have you covered. We provide excellent service, quick railing installs, and affordable service. Ready to get a railing system? Get a Free Instant Quote today!
CONTACT US
Contact us now for a FREE Instant Quote. Fill out the form or give us a call to get your railing system installed!