GLASS RAILING INSTALLATION IN ST. GEORGE UTAH
Everything you need to know about Glass Railing Installation.
A glass railing is a railing with glass panels. Generally glass railing systems have modernized posts so that the entire setup gives off a professional and clean look to an interior or exterior.
The idea of a glass railing is to make the building more transparent and inviting for visitors. This works well in many different areas, such as docks, pools, patios, and more.
Glass Railing Infill is Versatile
Glass panel railing systems use glass panels as infill. The average cost for a glass panel varies by the type of glass used. You have a few choices when you go with a glass railing system. These choices will very dependent on where you are installing your system. St. George installs a lot of pools, and for this reason glass railing installations have been quite popular.
What Kind of Glass Should I Use?
Make sure to use tempered glass or laminated tempered glass for your glass railing panels. Using anything less than tempered glass poses a hazard if someone bumps into the glass and it shatters, leaving sharp edges. It is also possible for people or animals to create injury-related hazards on non-tempered windows by throwing balls or toys, or by birds flying into the glass.
Tempered Glass Panels For Railing
Tempering is a process which makes the glass more durable by subjecting it to controlled heating and rapid cooling. Tempered glass applications include vehicle windows, skyscraper windows, skylights, shower walls, patio furniture, microwave ovens and more.
Tempered glass has so many benefits because it is a completely transparent material that makes it difficult to be replicated with other fill options. These panels are good at keeping the wind off in outdoor areas. You can put them on a patio or deck and they will shield you. This makes them popular for pools and docks.
If you're looking for a tempered glass railing system, they are slightly more expensive than those made from traditional glass, but provide many benefits over other types of materials. However, structural glass railing systems significantly improve safety. Tempered glass railing panels will be four times stronger than traditional panels, making them considerably safer. If tempered glass railings break, their broken pieces will be blunt and lack the sharp corners present in un-tempered glass. This will make it easier to clean up and improve safety. Tempered safety glass is a popular choice for railings because of how practical it is.
Hybrid Infill
Infills are used to create frames for windows and doors. They can be made with a variety of materials, including wood, aluminum, steel and vinyl. Generally speaking, aluminum and wood are the most affordable options. To get a more creative look, you can mix and match infill types like stainless steel cables with glass panels to create hybrid infills.
Not All Glass Railing Posts Are Created Equal
Glass railing post materials include plastic, wood, aluminum, and stainless steel. Lets take a look at each of them and breakdown their pro's and con's.
Plastic Posts
Plastic posts are a cheaper alternative to metal posts when installing glass railings. While they are much more affordable, they are not as durable and will need to be replaced more often.
Wood Posts
Wood and glass railing systems are both affordable and natural. A wood and glass staircase railing is easy on the eyes, could improve productivity, and promote positive emotions. Wood is a great green option for eco-friendly consumers but exterior posts may rot from moisture. You can use chemical preservatives to waterproof and prevent rotting.
Aluminum Posts
Aluminum is lighter and does not catch on fire like wood might but is not impervious to corrosion. Aluminum is very affordable and impressively durable despite being a softer metal. This may result in dents here and there over time. Aluminum is an excellent choice for posts in St. George.
Stainless Steel Posts
Stainless steel glass railing systems are more resistant to corrosion and provide better long-term value even given their higher price tag. Stainless steel looks fantastic, is durable, and works in interior, and exterior railing.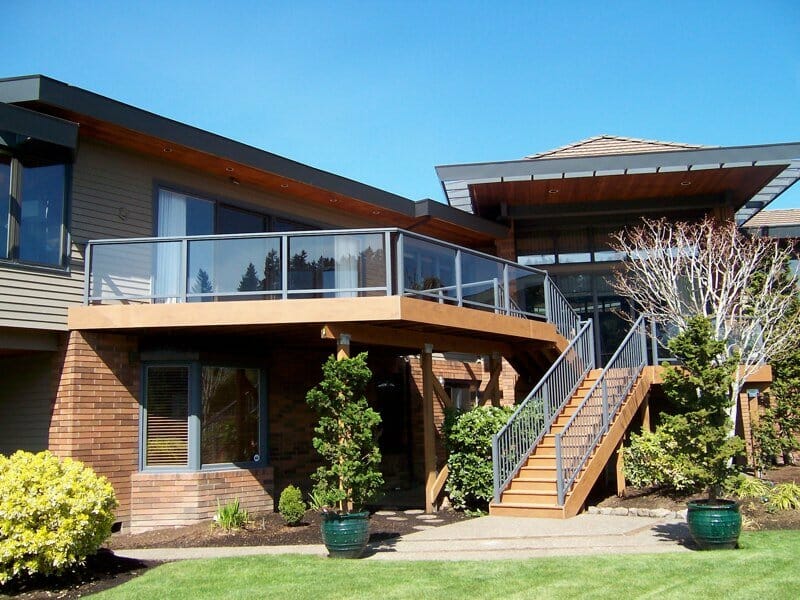 Glass Railing Handrails Have Different Styles
You have three main handrail options for glass railing systems, flat handrails, round handrails, and wood handrails
Flat Handrail
A flat railing is minimalist and creates clean lines for modern interior designs. This is a popular choice for modern homebuilding.
Round Handrail
Round stair railing is a type of handrail that is used to provide support for people who are going up or down a stair case. These rails come in a variety of shapes and can be made out of many different materials.
Wood Handrail
A glass railing with wooden components makes it possible to match your interior design and find the perfect railing that complements it such as rustic or farmhouse.
Continuous Handrail
Glass railing systems need to be customized for height and direction changes to form a continuous handrail. A flat handrail is usually has several attached pieces, while a curved round handrail is bent into the shape you'd like.
Wall Mounted Handrail
Wall mounted glass railing brackets allow you to mount a handrail on an interior wall without adding the full railing system if space is limited or it's too close to walls.
Post Mounted Handrail
Post mounted glass railing systems are generally designed for exterior spaces. They provide an elegant and stylish alternative to traditional railings. With the mounting system attached to exterior surfaces and posts, these railing systems are available in a variety of styles, colors, and materials that can be customized to fit any project.
Popular Glass Railing Installs
Glass railing has become a more popular option as components and materials have gotten better and cheaper. Here are a couple ideas for glass railing systems:
Curved Glass Railing
Customer curved glass railings can look fantastic in your home, or near your pool. Making a stair railing with a curved glass design requires building the glass part in a curve and then linking it to straight posts that are already anchored into place. This can get quite complicated but creates a beautiful solution for your railing needs.
Glass Railing Gate
Glass railing gates look fantastic with a glass railing system. Latches are highly recommended as glass can shatter if the gate swings in the wind. Consider stainless steel hinges to ensure durability.
Modern Glass Railing
A modern glass railing interior or exterior design is a refreshingly modern take on the classic style. The material used – stainless steel and glass – is both practical and aesthetically appealing. It can be used to create a seamless look for the entire home, or as accent pieces that break up the space in an interesting way.
Contemporary Glass Railing
Contemporary glass railing interior designs are on the rise. These designs are both sleek and eye-catching. They create a focal point in the room or a unique point of interest. A perfect example is seen in this contemporary living room with glass railing, which adds a bit of drama to the space.
Glass Stair Railing
Glass stair railing looks fantastic in a home with modern design aesthetics. The transparency of glass is its greatest design benefit, and that looks especially great with interior and exterior stairs.
Glass Balcony Railing
Many glass balcony railing systems choose transparent panels over translucent/opaque to maximize visibility. When you're on a balcony, you want to be able to see everything, so its important to choose the right glass. Install a glass panel railing system to get the best out of your view.
Glass Deck Railing
A glass deck railing system is an exterior glass railing that can be installed in the home, and act as a window for observing another extension of your home. When properly installed, the railing not only adds an attractive touch to your home but also functions as a safety measure.
Glass Patio Railing
Transparent glass railing systems can be an attractive alternative to regular railings. They make it easy for you to see your yard and enjoy water features. If you'd prefer a more private approach, you can use opaque glass to maintain the privacy of your patio.
​Glass Porch Railing
The porch railing is a part of a home's outer appearance. Porch railing can allow people to walk closer to the house, while providing protection from falling off the edge. The right choice of material for your porch railing will depend on what type of design you're going for. Porch railings are important for curve appeal and the value of your home.
Glass Loft Railing
Indoor railing systems for lofts are a great way to add safety and style to any home. These delightfully transparent railings integrate seamlessly with the rest of your home, offering a unique glimpse of what lies beyond the loft.
Glass Roof Railing
If you have an excellent vantage point, you can install a glass roof railing, while rare these can look beautiful and offer excellent views.
Commercial Glass Railing
Commercial projects have different priorities for their projects. Glass railing must look professional, be durable, and protect from lawsuits. We recommended Stainless steel and tempered glass panels to ensure all three of these objectives are met. Businesses in southern Utah that wish to uphold these standards should know that St. George Railing has their back. We install commercial ready glass railing to ensure you get the best quality system complete with durability and safety.
Residential Glass Railing
Residential Glass railing is more common. Used for personal docks, pools, decks, patios, balconies, and more. Glass panel railing is popular in St. George due to its hot weather and pool ready conditions. Red rock is used in much of the outdoor landscaping, which works well with transparent railing.
Glass Railing Cost
The cost of glass railing, professionally installed is between $165 to $700 per linear foot. This varies per location, materials, and service.
The breakdown of cost falls into the following categories:
Post Material Type
Type of Glass
Handrail Material Type
Service Install
Pros and Cons of Glass Railings for Decks
Pros
Some of the advantages offered by glass railings for decks include:
Design Aesthetic Is Appealing
Glass railings are the latest trend in deck railing systems. Glass railings offer a contemporary look and are becoming more and more popular with homeowners. If you're looking to transform your deck with a new railing, contact us today!
Unobstructed Views
If your deck or patio has a nice view, then a glass railing system is perfect for you. Keep in mind that not all glass is transparent. Make sure you go with a transparent glass option when dealing with a view. Glass panel railing is popular for decks in St. George.
Design Versatility
Glass railing systems are versatile from a design perspective. They can be customized to suit any type of outdoor space, from a balcony to a pool area.
Durability
Glass railings are generally made out of one-quarter inch thick tempered glass. Glass panels are unlikely to crack or break from normal use. They are low maintenance and only require a cleaning every once in a while.
Cons
There are a few disadvantages with glass deck railings. Lets take a quick look at them:
The Price
Prices vary greatly depending on all of your material choices and the length of your railing system. Glass railing tends to be on the more expensive side and usually requires a professional installation.
Cleaning
The glass panel infill is very durable, but with all types of glass it will have to be cleaned often on both sides. You'll need to keep this in mind as the maintenance cost for this option is higher than what you would spend on traditional wood decking or a material like metal.
It Gets Hot
Sometimes, glass panels create a greenhouse effect. Your deck, or anything near your railing could get really hot, especially in Utah in summer months.
Are Glass Railings Safe?
Yes! Glass panels are designed with safety in mind. Young kids generally can't climb them, which make them an excellent option around pools in the summer.
How should I clean glass railing panels?
Use a quality glass cleaner, making sure to avoid cloth with lint. Streaks are very unwelcome in glass panel railing systems, because they stick out. If it's framed by wood, keep glass cleaner away from the posts. We recommend Windex or a micro fiber cloth with water.
Should I Hire a Pro?
Making a mistake in measuring is very easy and an incredible headache with glass panels. We highly recommend you have a professional install your glass railing system. Have a question or need a glass railing install? Give us a call today at St. George Railing. We take care of glass railing system quickly, and provide excellent service. We operate in the St. George area and cover everything all the way to Hurricane Utah.