Stair Railing
Stairs are a common feature in residential, commercial, and industrial buildings. In fact, most buildings have at least one flight of stairs. We get asked frequently if we install railings for stairs, and the answer is: Yes! Stair railing is actually our most common job.
We provide all types of staircase work in southern Utah. If you are looking for a stair railing installation, fill out the form to get an instant quote!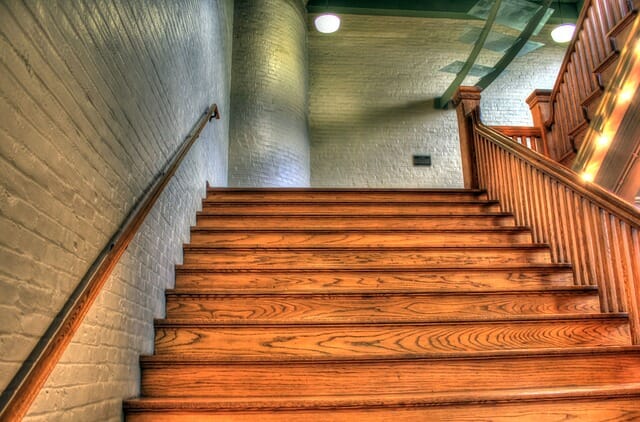 Materials
In almost every case you need to have a railing for your stairs. Whether you have a contemporary, traditional, or rustic home, you have an option when it comes to the material of your railing. We have a lot of versatile options when it comes to picking materials.
Keep in mind there is a lot that goes into a staircase and stair rail. Your baluster and stair handrail choice can make a huge difference in the overall feeling of your stair rails. We recommend taking a look at other projects online to get a feel for what you want in your stair rails.
If you have a custom job you would like done with special materials, we can accommodate your request! Give us a call to talk about your project and let us know what you are looking for!
Cable Stair Rail
Cable railing is a popular choice due to its beautiful, modern look. It is made of stainless steel cables that are intertwined on the outer edge, which gives it a stylish and contemporary feel. Cable will also open up your view through the railing, and can be installed vertically or horizontally.
Glass Stair Rail
When you have an incredible view you should go for glass stair railings. Glass is pricier, but will increase the look and value of your home tremendously. Glass stair rails will make your home look like a show house! It will open up your house and make it feel larger. Glass is also an excellent choice for exterior rail systems. You cannot go wrong with glass railings, they look incredible in almost every situation. Stair parts can be tricky, and especially when deciding to install glass as your railing choice. Glass panels really open up a room and provide a lot of light and open space, but they are difficult to cut correctly. We recommend one of our expert installers come to set you up.
Metal Stair Rail
Metal railing systems are a perfect way to add a modern look to your porch or balcony. They are often constructed from aluminum, which is both lightweight and sturdy. If you're worried about the longevity of your railing system, metal is for you. If you want a more finished look, you can also get stainless steel. If you're looking for a thicker old fashioned look, iron will do the job.
Wood
Wood is a natural material that has been used for centuries to create beautiful and lasting structures. It is a sustainable and renewable resource that is harvested using the most modern of techniques, and it looks aesthetically pleasing in any environment. Many people choose wood because it's natural and looks great with any atmosphere. Wood does have downsides though, it wears easier outdoors. If you decide to go with a wood system, we recommend you have an expert talk to you about finishes. A lot of older homes have a wood staircase. If you want something fresh, we can absolutely offer you affordable alternatives!
Residential Stair Railing
A staircase is one of the most prominent features of a home. It is the first thing that people see as they enter your home and it deserves to be as aesthetically pleasing as possible. A good-looking railing goes a long way towards making a homeowner feel more comfortable and confident about their space. Since stairs connect floors, it's psychologically important to have a fantastic-looking rail design.
The importance of having an attractive and well-installed railing was first realized during Victorian times when people started building homes with increasingly large and grand staircases. The Victorians' obsession with detail led them to want railings on their stairs to make them look perfect for all those who were invited into their homes.
Staircases and railings are seldom thought about from a design perspective, but really add a ton to a home. In some cases, an excellent staircase rail can increase property values! Fortunately, there are many different materials and styles that can fit any home's aesthetic.
Commercial Stair Railing
Commercial rail systems tend to take a blend from both residential and industrial railing designs. Its important to have both a durable and fantastic-looking railing.
Depending on the situation though, there is a large difference between commercial and residential when it comes to stairs. Railing has different requirements based on local laws and government regulations. For example, commercial code can sometimes require a taller handrail than one installed in a home. Commercial jobs can range from, libraries, schools, office buildings, to malls, shops, and fitness centers. Sometimes the needs of these systems can be quite complex.
We can handle any stairway railing install that you need. Just give us a call today! We serve a wide section of southern Utah, including the area around Saint George.
Industrial Stair Railing
With industrial stair railing, the primary purpose of a railing is to keep workers safe. Railing needs to be durable, and protect buildings, stairs, and people. Railing is required for stairs, and must be installed to certain specifications depending on the situation. It must meet specific standards set by government entities. We want to install a fantastic industrial system for your stairway, to keep you safe and follow all regulations. It can be daunting to get something installed when you have a complex industrial need. Let us know, and we'll come out and assess your unique needs and come back with a solution for your project!
Stair Railing Service Areas
We install stair railing in a large portion of the southern Utah area. We are based in St. George, but service in many areas from Ivins, all the way to Hurricane and around. If your job is large enough, we will even serve Cedar City.
We have done a lot of installations in the past, and our craftsmen are dedicated to installing a beautiful system for your project! Ask us for a quote today!
Frequently Asked Questions
Is my project too small?
If you have a couple of steps that attach your home to your porch or patio, likely the job is very small. We do have a minimum job size that we deal with, as it's just not economical to do small jobs frequently. However, if it is in conjunction with another project, we'd be happy to work it in.
How much does stair railing cost?
That is quite a complex question with very many factors. There are 3 main variables that go into stair railing cost. materials (glass, metal, wood), length (size of your project), and difficulty (multiple corners, curves, or other complexities that need to be addressed with the railing). With rising costs of materials and shortages, we cannot give you a great per foot price at this time. Give us a call to talk about your project, and we'd be happy to ballpark what it might be.
What is a handrail?
A handrail sometimes called a banister is a grip for your hand that is mounted onto your railing system. Sometimes people confuse handrails with stair railings.
Do you replace entire staircases, including stairs?
While we do install staircase railing, we generally do not replace an entire staircase. This largely depends upon your project needs though. Please provide more information on your project. Give us a call today!
Do you handle outdoor staircase and stair rails?
If you have an outdoor stair system, we have you covered! We have a large selection of stair parts available for you to choose from. We consistently do outdoor jobs in both residential and commercial projects.
Do you install modern stair railings?
Yes! Depending on the materials you are looking for, and the staircase you currently have, we can absolutely design a modern look for your project. For modern designs, glass railings look phenomenal. A cable railing in stainless steel is also an option, which looks phenomenal with stair tread.
Which factors are good indicators that my project will be more or less expensive?
Generally speaking, if your current staircase has a lot of corners, platforms, or curves, your project may incur extra costs. This is because the railing needs to follow the staircase, meaning material must now curve and plateau with your stairs. This means extra cutting and measuring for us to get it just right. The size of your job is a large indicator as well. If your job is small and not complicated, chances are you are looking at a very affordable bid depending on the materials you choose. During the COVID-19 pandemic, material costs have gone a little crazy. Keep in mind that we do not control the cost of materials, and some have skyrocketed.